The design of static equipment is historically the VCE Engineering core business for our engineering department.
VCE Engineering offers a complete design for static equipments, like:
Heat exchanger
Pressure vessels
Accumulator / Dampener
Separator / Filters
Reactors
Distillation / Refractionating column
Pig trapsFired heater
The detail engineering is always developed in compliance with the client and/or end user specification.
The design is performed as minimum accordingly to the following international standards:
ASME VIII div. 1
ASME VIII div. 2
EN 13445
PD 5500
AD 2000 Merkblatt
VSR
GOST 52857
TEMA R-C-D
ASME B31.4/31.8 (for pig traps)
The main items designed as per requested normative can be verifed to withstand:
Internal or External Pressure
Nozzle loads (verified with WRC bulletins, PD5500, EN 13445, GOST 52857 standards, or by FEA)
Verification of external loads like wind, seismic and snow loads
Live Load verification (platform and vessel motion, inertial loads,  incidental and accidental external loads like nearby equipment blasting)
Equipment verification in condition of handling and transportation, comprehending verification of lifting appendices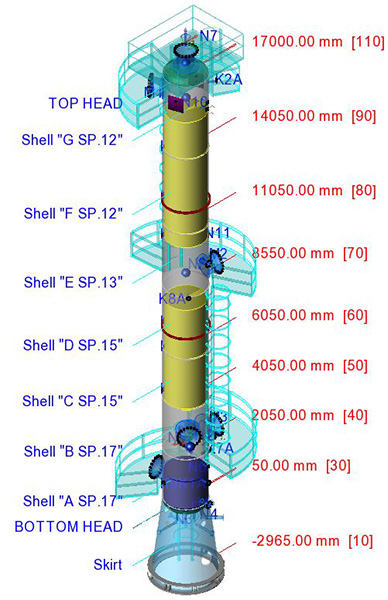 The verification by formulae of equipments and components are mainly exectuted by means of dedicated software or by using calculation sheets developed by VCE Engineering s.r.l..
For those equipment or components for which the design is not covered by the standard's formulae, or whenever the customer may request it, the design can be carried over by analysis (Finite Element Method).
The design activities provided comprehend not only the static calculation as above explained, but also the preparation of General Arrangement Drawing, Detail Construction Drawings, shipping drawing and material lists, in order to allow the manufacturer to completely build the equipment.
VCE ENGINEERING S.R.L.
email: info@vce-eng.com

Phone: +39 041 5087001
Fax: +39 041 997612
Address
Via delle Industrie 34
30038 - Spinea, VE - ITALY

VAT: 04251170272